Automotive & Aviation
September 19th, 2021
---
Hope for a Future in Trinidad & Tobago Despite Challenges
AUTOMOTIVE INDUSTRY
'The year 2021 started negatively for the Trinidad and Tobago market. In the first quarter, 3.120 units were sold – an 11.7% decrease in sales when compared to the first quarter in 2020.'
INTERVIEW
In his 2020/2021 budget presentation, the Finance Minister Colm Imbert made some major announcements regarding the Automotive industry. He stated, "At close to one million vehicles, there are simply too many cars on the road in Trinidad and Tobago today. As a country, we spend $2.5 billion per year or US$400 million per year importing an average of 25,000 vehicles per year, at least two thirds of which leads to private motor cars. This has created a serious leakage of foreign exchange. We propose to remove all tax concessions on the importation of private motor cars. All private motor cars will now attract customs duty, motor vehicle tax and Value Added Tax (VAT), with the lowest rates of duty and tax being imposed on hybrid cars, electric cars, CNG cars and small engine cars below 1500cc to encourage low use."
The Minister added that tax concessions are to stay in place for commercial and industrial vehicles and on public transport vehicles.
Earlier this year, as instructed by the Minister in his budget presentation, a reduction in the age of imported foreign used vehicles was implemented – from four years to three years. Additionally, the quota for the importation of used cars was reduced by 30%.
As a result of the COVID-19 pandemic, full-year sales for 2020 were 10.122 units, a 31% decrease when compared to 2019.
The year 2021 started negatively for the Trinidad and Tobago market. In the first quarter, 3.120 units were sold – an 11.7% decrease in sales when compared to the first quarter in 2020.
Trinidad and Tobago's automotive industry experienced several lockdowns due to the COVID-19 pandemic. With lockdown measures during the second quarter of 2021, being relaxed in July 2021, the industry was allowed to operate on a temporary basis.
Where do all these new measures coupled with a pandemic leave the Automotive industry?
It has been adversely affected. This is according to the President of the Automotive Dealers Association of Trinidad and Tobago (ADATT) Ryan Latchu. When asked how he would describe the last year for the sector, he said, "The Automotive sector has been adversely impacted over the past 18 months due to several factors. Internationally, the COVID-19 pandemic has negatively affected the automotive supply chain as it relates to the manufacture of component parts, vehicle production and global logistics. Domestically, we began experiencing challenges over the past few years with foreign exchange shortages and this has resulted in a steady decline in the vehicle market. Recently, the removal of tax and duty concession on hybrid and CNG-powered vehicles under 1,600cc the local COVID-19 situation and the domino effect this has had on the economy all contribute to a market that is now 50% of what it was a mere five years ago."
What are the major challenges post-COVID and moving into 2022?
"The major challenges facing the automotive industry post-COVID-19 will be our ability to sustain stimulated demand for vehicles" Latchu stated. But what, if anything, can be done to address such challenges? The president of ADATT stated, "The global landscape and approach for consumer purchases have drastically evolved due to the pandemic and as such, we have also prepared to mitigate against any potential threat impacting our industry. The reality is that although work life will change, there will always be a need for mobility. As such, we have planned for the sustainment and survival of our industry by developing and enhancing our digital tools, contactless solutions and safety protocols."
What are the future trends and growth opportunities for the industry?
"Transportation and mobility will continue to be essential for the public and as such, we see our industry with a future. However, 2020 was a challenging year and we believe that based on the factors mentioned, 2021 will be similar. The level of economic activity moves in tandem with the Automotive sector, so in essence when there is an increase in economic activity this translates into increased demand for vehicles and vice versa. We believe that growth in our sector is limited in the short term considering the current situation. However, with the recovery of the economy in the mid to long term, we anticipate an increase in market activity for all players."
What is the outlook for the automotive industry in 2021-2022?
Latchu stated, "The automotive sector in 2021 is forecast to be similar to that of 2020. On the other hand, 2022 is primarily dependent on the Government's micro and macroeconomic policies to drive economic stimulation and growth. Although we hope the market improves, based on the pandemic, we see only marginal increases if any."
AVIATION INDUSTRY
"This country's borders were closed to commercial flights from March 23rd, 2020 to July 17th, 2021. Trinidad and Tobago experienced a 95% drop in international passenger movements."
INTERVIEW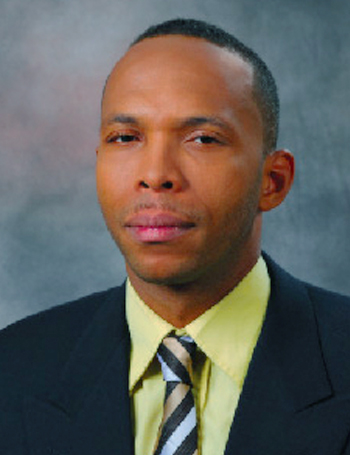 There is no doubt that the COVID-19 pandemic has heavily impacted upon the Aviation industry in Trinidad and Tobago. Emmanuel Baah, Deputy General Manager explains, it has been a major disruptor to the aviation industry. Some countries attempted to prevent the entry of new variants by putting restrictions on travel. This resulted in an unprecedented fall in aircraft and passenger movements. This country's borders were closed to commercial flights from March 23rd, 2020 to July 17th, 2021. Trinidad and Tobago experienced a 95% drop in international passenger movements. This led to severe cash flow challenges for many airlines, airports and businesses related to travel and tourism. Some airlines and duty-free operators retrenched staff or attempted furloughing in order to reduce personnel expenditure.
Politically: As vaccines were developed and distributed, the issue of vaccine passports has arisen. Many countries have stipulated that passengers be vaccinated in order to enter their countries. Some countries have refused to accept some of the COVID-19 vaccines that have been approved by the WHO. So, 2021 finds us at an intersection between geopolitics, economics, a pandemic and commercial competition.
Socially and economically: COVID-19 led to unprecedented financial challenges for airports and airlines. Suppliers to these entities faced financial turmoil. Employees and business owners in affected sectors faced reduced disposable income, this may reduce their availability of funds for leisure travel in 2021.
Technology: The pandemic has driven increased use of technology. It remains to be seen if this will adversely impact upon the demand for business travel, meetings and conferences.
Legal: Regulations have impacted on the cost of travel.
Environment, safety and health: Increased focus on health has stimulated interest in contactless processes for check-in, passport control and shopping. This trend is likely to continue into the future.
What are the challenges facing the industry post-COVID, and what can be done to address them?
One major challenge is the projected slow recovery for air travel. Some industry analysis suggests that passenger movements may not recover to 2019 levels until 2023.
What can be done:
Encourage domestic travel
Promote mass vaccination to reduce the number of new cases and the number of deaths from COVID-19 in Trinidad and Tobago so countries that use a tier system to categorise countries based on risk of infection, will categorise Trinidad and Tobago as one of the countries where the spread has been contained. This will encourage other countries to reduce restrictions placed on travel to and from Trinidad and Tobago
Advocate for the acceptance of all WHO-approved vaccines in major source markets such as Canada and the EU so the brand of vaccine will not be a non-tariff barrier (NTB).
The Authority is working to reduce its dependence on revenue streams linked to movement of aircraft and passengers. This will be done by pursuing the development of non-aviation revenue streams. The Authority will be working to attract investors and land developers to projects on the Piarco Airport estate. In Tobago, the next big initiative will be the construction of a new terminal.
Skytrax World Airport Awards declared the Piarco International Airport the cleanest Caribbean airport as well as the Best Airport in the Caribbean for 2020 to 2021.