Automotive & Aviation Services
October 28th, 2022
---
Pivoting Towards Electromobility
Manufacturers now, in response to legislative actions by countries in the west especially, are committing to phasing out internal combustion engine vehicles and going electric.
INTERVIEW
Dr. Graham King
Dept. of Manufacturing & Mechanical Engineering,
University of the West Indies, St. Augustine, Trinidad.
T&T's automotive sector moves ahead
Change is inevitable and this is evident in T&T's automotive sector; the country is moving from Driver's Permits to Driver's Licences, deemed to be more secure, modern and internationally recognised. On the move also is the Licensing Division which launched a mobile service in late 2021. Citizens can access services from two fully outfitted buses at various locations throughout the country.
While motorists may welcome this change, one that has not settled well is the recent hike in fuel prices. In April, the price of premium and super gasoline each rose by TT$1 per litre to $6.75 and $5.97 respectively, diesel was adjusted by TT$0.50 to TT$3.91 per litre and kerosene increased to TT$3.50. Electric and hybrid buyers, however, are pleased with the Government's decision to remove all custom duties, motor vehicle tax and value added tax (VAT) on the importation of two-year-old battery-powered electric vehicles. As of 25 May 2022, all taxes (customs duty, motor vehicle tax and VAT) have been waived on passenger hybrid motor cars for private use with an engine size not exceeding 1,599 cc and an electric motor output not exceeding 105 KW.
The way forward – electromobility
According to Dr. Graham King, "Globally, we are going through a huge transition in the automotive sector and that transitioning is really pivoting towards electromobility (emobility) across basically all transportation sectors." The engineer said there are some big advantages to electric vehicles which are generally beneficial but for small islands, the benefit is amplified. However, he shared, "Manufacturers are not really prioritising our region with the supply of vehicles and that is going to be a bit of an ongoing problem because of the minerals it requires to manufacture the electric vehicle batteries. The demand for lithium and the other minerals that go into battery manufacturing is exceeding the supply but there is a lot of investment taking place in starting to meet that need and building the supply chain.
As far as I can think, there are three models that are being sold by franchise dealers, but the foreign car dealers are able to source their vehicles much more widely. There are things I think the franchise dealer could do to improve their supply. These islands are so small it makes perfect sense to run electric vehicles. It would be great if the franchise dealers could speak to each other and present a united front. It would help to give a voice to the Caribbean and to the manufacturers."
While there are many advantages to electric vehicles, Dr. King explained that there will be the same number of vehicles on the road. "The problem we have is congestion and I think we underestimate its cost to the economy and to productivity." What does he suggest can be done to ease congestion? "With the advent of emobility, there is a huge possibility to transition to a more modern and efficient public transport system," he said, "but this has to be driven by the Government." He also pointed out that a properly formulated transportation plan is necessary.
Attracting investment
So, what could be done to attract investors? He noted that there is some investment taking place as with Unipet and charging infrastructure for electric vehicles. "People will want to have public chargers and especially destination chargers (like those currently available in Preysal, 100% renewable, and Brentwood gas stations) but right now the charging network is very limited."
Projected outlook
Slow growth in number of electric vehicles in T&T
What is Dr. King's projected outlook for the sector? "I embrace the VAT and duty waivers for electric cars at this time but for hybrids, I think it is a big mistake. It is going to cost the Government potentially
US$50 million a year and they're not getting anything back from that. They could have taken that and invested it in developing the transport system and it could have made people's lives a lot easier."
Cabinet though has agreed to convert the fleet of Public Transport Services Corporation buses to electric buses. While the remaining internal combustion engine buses will still be used, Works and Transport Minister Rohan Sinanan believes the move to electric needs to be done to reduce emissions and to move with the rest of the world.
Dr. King further explained that the growth of electric cars he was hoping to see may not happen because of the waiver on hybrids. He thinks people are going to revert to buying hybrids and there will be a big increase in those buying private vehicles – "more and more vehicles these days have some sort of hybrid system."
Additionally, he thinks there will be consistent growth in larger vehicle sales as more models become available. "Manufacturers now, in response to legislative actions by countries in the west especially, are committing to phasing out internal combustion engine vehicles and going electric and they are investing large amounts of money in developing electric vehicles. So, vehicle models are growing every day and are finding their way in," he said.
CNG good retrofit with a lifespan
As for CNG, Dr. King sees it as a good retrofit option but pointed out that it is definitely not the future. "That has a lifespan but for now it is still good, especially for high mileage vehicles."
AVIATION INDUSTRY
Soaring Hope for Sector
"The return of airlines has been gradual," said Emmanuel Baah, Deputy General Manager – Estate Planning and Business Development, Airports Authority of Trinidad and Tobago (AATT). Speaking about developments after the pandemic's lockdowns, Mr. Baah stated "in May 2022, we've only returned to about 63% of international passenger arrivals compared to 2019 (pre-pandemic levels). We think that by July 2023, we should reach about 75% or 80% of international passengers returning to Trinidad and eventually, 100% by December."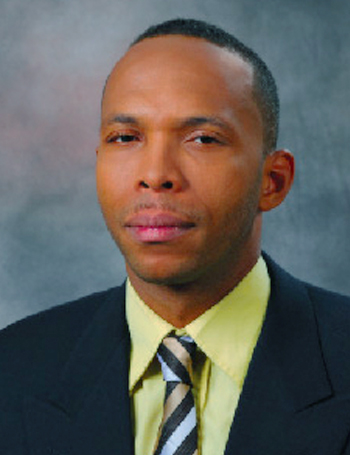 INTERVIEW
EMMANUEL BAAH
Deputy General Manager
Estate Planning and Business Development –
Airports Authority of Trinidad and Tobago
Resilience in a pandemic
Despite the pandemic, Piarco International Airport is recognised by Skytrax as the leading airport in the Caribbean. A true game changer, Caribbean Airlines Limited (CAL ) has received MAX aircraft – a new aircraft technology that will allow them to fly long distances at a competitive price. AATT is also working to expand its food and beverage offerings. Another game changer is a new service launched here by KLM (known for making wise business decisions) on 16 October 2021.
Opportunity for investment
Asked what he thought could be done to attract investors, Baah proudly stated, "In May, Cabinet made a decision to approve the implementation of AATT's Strategic Land Use Plan through the setting up of a multidisciplinary team that would be involved in pushing for the commercialisation of airport lands through a public expression of interest process." The plan includes maintenance, repair and overhaul facilities, a package for an air transport hub, air cargo warehouses and related services. "If it is allowed to run, it could lead to more investment and job creation," said Baah.
Propelling the industry
But what legislation or policy could be put in place to truly propel the industry forward? Baah shared, "In 2021, CARICOM signed a Multilateral Air Services Agreement (MASA) that has the potential to bring down the cost of travel in the region because it will allow, for example, a country to give rights to another airline to operate on its domestic route or if there is a CARICOM country that has an airline as its designated carrier, all CARICOM countries have to give it the same rights."
Technology's role
Asked what role technology played in moving the industry forward, Baah explained that many benefits are coming from technology, especially in aircraft design. "It is allowing smaller aircraft to fly longer distances so that opens up opportunities for T&T as we are so far south in the Caribbean." There continues to be a lot of interest in health, safety and sanitation matters. So, the trend towards touchless travel is going to continue well beyond 2023. "There are lots of technologies out there that can facilitate faster travel and touchless travel."
Future of travel
Baah believes that we are going to continue to see some positive returns to passenger traffic by air. "We think that there will be a lot of high travel in December 2022 and that is going to continue into Carnival 2023 for T&T. We see a very solid return to growth in aviation when it comes to international travel." Also, "2023 will see the start of construction of an airport hotel and in Tobago, we should see continued work on the new terminal being built."
Additionally, construction of the largest solar park system in the country is being done at the Piarco International Airport. It is made possible by a TT$12 million European Union grant which was given to assist the country with meeting its Sustainable Development Goals.