Affordable, accessible healthcare within reach
Nestled within tropical gardens, close to the ocean in East End, Grand Cayman, sits Health City Cayman Islands, one of the largest Joint Commission International (JCI) accredited, advanced, tertiary-care hospitals in the Caribbean.
Opened in 2014, Health City has provided medical, surgical, diagnostic, therapeutic and advanced care services – including many "firsts" in areas such as robotic navigation for joint replacements, installation of artificial hearts or left ventricle assist devices (LVAD), transcatheter aortic valve replacements (TAVR) or implantations (TAVI), minimally invasive clot extraction for strokes, and renal denervation – to patients from dozens of countries around the world.
The renowned surgeons and medical specialists at Health City have trained at some of the best academic centres around the world. Utilising best practices, infection prevention protocols, and evidence-based techniques, the hospital has attained high quality global rankings.
Born from the vision of internationally-renowned heart surgeon and humanitarian Dr. Devi Shetty, Health City is supported by Narayana Health Group of Hospitals in India. As one of the world's most cost-efficient healthcare service providers, Narayana Health balances quality healthcare with affordability, transparency and compassion. Dr. Shetty serves as chairman of Narayana Health and oversees a network of 32 hospitals across India, as well as Health City Cayman Islands.
Over the course of his distinguished career, Dr. Shetty and his team have performed over 120,000 heart surgeries, 40% of them have been on children. In 1992, he successfully performed the first neonatal heart surgery in India, on a nine-day-old baby.
"It is pointless to talk about advances in health care if the price is beyond the reach of 90% of the world's population," Dr. Shetty said. "If the solution is not affordable and accessible, it's not a solution."
This international healthcare pioneer also served as Mother Teresa's personal physician after operating on her following a heart attack.
"I truly believed in her divine presence, which was perceptible wherever she went. I always felt a sense of joy, happiness and comfort in her divine presence, which I never experienced before, and she touched my life in so many ways," Dr. Shetty said.
Health City's East End flagship hospital, will soon be complemented by a new facility close to the country's capital, George Town and the famed Seven Mile Beach, broadening the range of medical and surgical services currently available in the Cayman Islands and across the Caribbean.
Built at a cost of US$100 million, Health City Camana Bay will feature a specialised Cancer Care Centre with comprehensive and advanced oncology offerings, a neonatal intensive care unit (NICU), an emergency pavilion and critical care unit, and a robust multispecialty program which includes robotic surgery.
Clinical expertise paired with advanced technology
Health City's highly qualified team of doctors and specialists are international healthcare leaders in their field with a broad range of specialties and backgrounds. Services range from cardiology, neurology, orthopaedics, gastroenterology, through to pulmonology, urology, gynaecology, medical oncology, amongst many others.
Cariology/Electrophysiology
Consistently ranking among the best cardiologists in the world, the department provides state-of-the-art cardiac care, from prevention, diagnosis, and emergency care – to surgery, treatment, cardiac rehabilitation and wellness services. Interventional cardiology services are performed in the state-of-the-art Hybrid Cathlab – one of just a select few in the Caribbean.
Health City also offers a host of electrophysiology services, a cardiac specialty that treats patients who have fast, slow, or irregular heartbeats, known as cardiac arrhythmias. Non-invasive electrophysiology is used to detect, track, and record irregular heartbeats in patients from the skin's surface and are individualised to meet the specific clinical needs of each patient.
Dr. Binoy Chattuparambil
Clinical Director & Senior Cardiac Surgeon
Over 25 years of experience performing surgeries on both adults and children including heart revascularisation, treatment of congenital abnormalities and other diseases of the vascular systems.
• 6,000+ procedures
• 1st LVAD (Artificial Heart) in the Caribbean
• 1st Extracorporeal Membrane Oxygenation (ECMO) in the Caribbean (The ECMO system acts as an artificial heart or pair of lungs during therapy, allowing the patient's organs to rest while natural healing of the affected area takes place).
• 1st surgery to correct Pentalogy of Cantrell (heart outside the chest) in the Caribbean
Dr. Ravi Kishore
Chief Interventional Cardiologist & Electrophysiologist
• 17,000+ procedures
• Implanted the first CCM device for heart failure in the Caribbean and Central and South America
• 1st in the English-speaking Caribbean to perform the TAVI (TAVR) procedure
• Among the first to introduce percutaneous lead extraction in the Caribbean
• 1st Cryo Ablation procedure for Atrial Fibrillation in the English-speaking Caribbean
• 1st in the Caribbean to perform Renal Denervation using an innovative technique he developed
Orthopaedic Surgery & Sports Medicine
A centre of excellence for orthopaedic surgery, Health City was one of the first centres in the Caribbean to offer direct anterior minimally invasive hip replacements. It is one of the first centres in the Caribbean to use computer navigated / robotic navigation for primary knee replacements, outside of Puerto Rico. It is the only centre that offers computer navigated knee replacements to all their primary knee replacements for the past 5 years.
Dr Alwin Almeida
Senior Consultant Orthopaedic Surgeon and Head of Department of Orthopaedics
Dr. Alwin brings over 20 years of experience in arthroscopic procedures and joint replacements.
• 6000+ surgeries (1000+ Joint replacement surgeries)
• 1000+ Arthroscopic ligament reconstructions of the knee and shoulder
• 1500+ Arthroscopies
• 1st Arthroscopic Latarjet with Dr Boileau's Double button technique in the North America and the Caribbean
• 1st Regeneten Bioscaffold for Shoulder rotator cuff augmentation outside of US and Canada
• 1st hospital and surgeon to use Titan Shoulder Prosthesis by Smith+Nephew for shoulder replacement surgeries
• 1st Hospital and surgeon to use the state of the art Arthroscopic 4K tower by Smith+Nephew in the Caribbean
Neurosciences
Health City's Neuroscience Department is comprised of neurology and interventional neurology, neurosurgery and spine surgery, psychiatry and neuro-rehabilitation. The hospital features an electrophysiology lab for neurodiagnostics that analyse and monitor nervous system function to promote the effective treatment of neurological diseases and conditions. As a treatment centre for Multiple Sclerosis, it has highly qualified staff, trained in the administration of medications for MS.
Health City's neuro-spinal surgeons offer the latest minimally invasive spine treatments, as well as conditions of the brain and peripheral nerves. The minimally-invasive approach used at the hospital results in smaller scars, shorter recovery times, less postoperative pain and reduced hospital stays.
Dr. Romnesh De Souza
Interventional Neurologist
• 1000+ neuro interventional and diagnostic procedures
• 1st Flow Diverter stenting for intracranial aneurysms
• 1st Aneurysm coiling for intracranial aneurysms
• 1st Carotid artery stenting
• 1st Aretro Venous Malformation Embolisation
• 1st Mechanical thrombectomy for stroke
• 1st Insitu thrombolysis for Cerebral venous sinus thrombosis
Dr. De Souza is the regional Co Chair for Northern Caribbean Mechanical Thrombectomy 2020 programme.
Dr. Manjunatha Kandala
Neurosurgeon and Spine Surgeon
• 1,500+ surgeries
• 1st Spinal stimulator implant in the Caribbean
Stay & Recover
Parrot Ridge Apartments offer Health City patients comfortable on-site accommodation. These high-efficiency units combine the best of modern designs, spacious open-plan living and dining, refined private bedrooms, full kitchen amenities, with views of the gardens and pool. Parrot Ridge offers everything you need for a restful recovery. Amenities include Wi-Fi and cable television service, as well as the option to purchase meals from the Health City Café.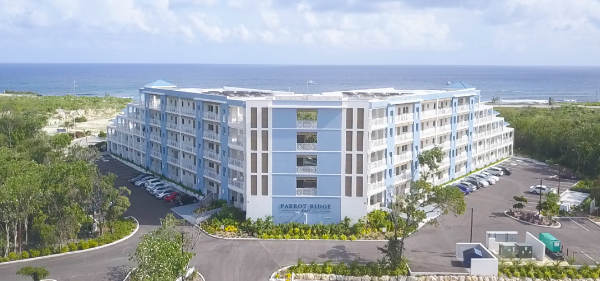 For more information, contact:
Matthew Sammy, Territory Lead
1 (868) 497-2669
1 (868) 720-4019
[email protected]
www.healthcity.ky