D'Market Movers Launches T&T's First Click & Collect Grocery
August 25th, 2021
---
On Saturday 14 August 2021, D'Market Movers opened Trinidad and Tobago's first and only Click & Collect Grocery at Midland Plaza, El Socorro. Customers can now order their groceries, fresh produce, meats, and local artisan items online at dmarketmovers.com and either choose the delivery option or collect at the company's El Socorro outlet.
The physical location exclusively offers click and collect service. Customers place their orders online at dmarketmovers.com and in lieu of delivery, pick up the items in person at no additional charge.
Co-founders, Rachel Renie and David Thomas, are excited about this new chapter in the company's journey and what it means for customers. The duo, whose focus has always been on health and convenience, works with over 250 farmers and artisans to secure the freshest local products and bring them directly to their customers. Based on customer feedback, they recently expanded their inventory to include a selection of items found in traditional grocery stores.
According to Renie, the decision to open a Click & Collect Grocery was centred on giving customers more flexibility and greater convenience. "It may seem a bit contradictory to open a physical location when businesses are closing brick-and-mortar outlets to go online. However, this decision was centred on convenience for the customer. We want to give them more flexibility and the freedom to engage with us on their own terms. Now, our customers can order online and pick up after work, when they are running errands or whenever suits them best. This additional option gives them more control over their time and schedule," stated Renie. With respect to the cost element, she noted: "If customers choose to pick up their orders at our Click & Collect Grocery, there will be an element of savings as this option eliminates the delivery fee entirely. There is no cost to collect in person." To allay any concerns, Renie emphasised that the business will not be scaling back on their delivery locations or make any changes to their delivery service. "We still offer island-wide delivery. Customers who opt for delivery will experience the same level of service that they have grown accustomed to. Nothing changes on that front."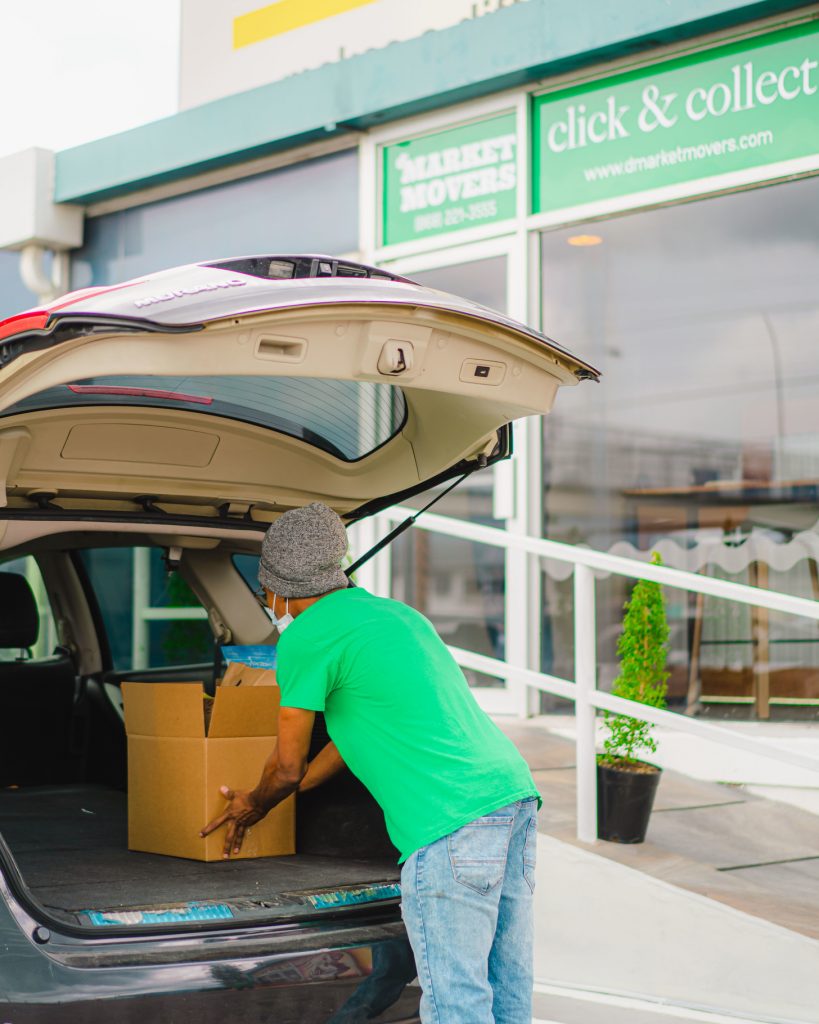 Those interested in using the Click & Collect service can visit dmarketmovers.com, select their items and when checking out, choose the 'Pick Up' option. After the order is placed, the customer will receive an email letting them know when their order will be ready for collection. Orders typically take 24 to 48 hours to fulfil, however, customers can choose same-day pick up or opt to collect their packages at a later date. On the day of collection, the customer will be asked to call upon arrival and a representative will bring the items directly to their vehicle.
D'Market Movers Click & Collect Green Grocery will be open Monday to Friday from 9:00 a.m. to 5:00 p.m. and Saturdays from 9:00 a.m. to 3:00 p.m. to facilitate order collection.
The company accepts online payment via credit card, bank transfers and even PayPal. "To make the process as seamless and contactless as possible, we encourage our customers to use the online payment methods available. However, we facilitate cash, debit card and cheque payments as well," noted Thomas. He added that all COVID-19 health protocols will be strictly followed.
Interested persons can visit dmarketmovers.com or call 221-3555 to place their orders.