Message from the Ministry of Trade and Industry 2020-2021
January 6th, 2021
---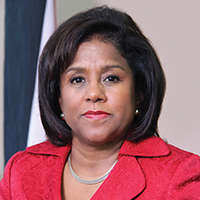 SENATOR THE HONOURABLE PAULA GOPEE-SCOON – MINISTER, MINISTRY OF TRADE AND INDUSTRY, REPUBLIC OF TRINIDAD AND TOBAGO
---
2020 marks a watershed for all, including Governments, firms and individuals in both the developed and developing worlds whose futures hinge not only on their ability to weather the devastating effects of the Novel Coronavirus, but also on their awareness to see the numerous opportunities that lie ahead and their resolve to adapt and take firm action.
The Government of Trinidad and Tobago, like others, faced significant challenges with this latest onslaught but has acted decisively and has demonstrated the ability to balance the needs of public health and economic resilience while creating an environment that promotes social protection and engenders confidence in the economy.
To date, the country's economy has demonstrated resilience as the economic fundamentals have remained robust, as evidenced by close to zero inflation (0.4%), low unemployment, sufficient import cover (8 months), solid HSF reserves and projections of growth. However, to ensure continued growth and expansion of trade and investment, the Ministry of Trade and Industry is committed to implementing several initiatives such as its new Trinidad and Tobago Trade Policy, e-Commerce Strategy and the creation of several new economic spaces for investors to engage in economic activity and stimulate non-energy exports.
The new Trade Policy seeks to promote business and investment in Trinidad and Tobago, enhance trade relations with regional and international trading partners, improve competitiveness, and strengthen the country's export base to capture the gains from trade. This involves reducing the country's food import bill by increasing the supply of locally produced food items, as well as establishing cheaper alternative supply chains within the region. The Ministry is also resolute in the implementation of its e-Commerce Strategy promoting and facilitating a digital economy with the prevalence of online sales and payments which have grown in importance. To facilitate and complement these initiatives the modernisation of existing economic parks such as the Tamana InTech Park and the creation of new economic spaces such as the Moruga Agro Processing and Light Industrial Park offer investors lucrative opportunities for firms to research, innovate, produce and expand non-energy exports.
The above are tangible manifestations that the Ministry of Trade and Industry will continue to play a defining role in the diversification and development of the country as we navigate through the new normal. They are compelling evidence of the Government's unwavering commitment to providing the necessary tools and policy direction to stimulate economic activity in a digital economy, which is critical now, more than ever.
Ministry of Trade and Industry
Level 17, Nicholas Towers
63-65 Independence Square
Port of Spain
Tel: (868) 623-2931-4
Fax: (868) 623-7588
Email: [email protected]
Website: http://www.tradeind.gov.tt/