MIC-IT – A Premier Regional Training Provider
March 18th, 2019 | Related To: Private: MIC Institute of Technology
---
Press Release
MIC-IT – A Premier Regional Training Provider
12/02/19
MIC Institute of Technology (MIC-IT), the premier Technical Vocational training provider, has gone Regional! Over the last year, MIC-IT has been providing training opportunities in Sint Maarten, St. Vincent and the Grenadines and Grenada. In Sint Maarten, MIC-IT started a technical vocational training programme to train approximately 80 students in various construction trades and Life Skills.
For over 40 years, MIC-IT has been a service provider in these technical vocational fields and has leveraged on its close relationship with local and international industry partners to ensure an industry-relevant and high standard of training. Initial contact was made with the St. Maarten government in October 2017, and this was the start of a blossoming relationship with not just their government, but with NIPA, the Institute for Advanced Vocational and Technical Education. This, in an effort to develop the rebuilding capacity of citizens of St. Maarten during their 'recovery and rebuilding' phase post-hurricanes Irma and Maria.
In July 2018, NIPA and MIC-IT officially signed an Agreement and launched the MIC-IT's Training Programme for Sint Maarten entitled, "Retraining to Rebuilding, the Sint Maarten Experience". Subsequently, in August 2018, MIC-IT staff commenced training programmes at St. Maarten's NIPA campus. Some of these initiatives included Construction Technology courses, Life Skills and Technical Vocational Instructor/Teacher training Diploma Programme, which will end in July 2019. As of January 15, MIC-IT also started a new training project for 20 persons in carpentry, through NIPA with a non-profit foundation in St. Maarten called K1 Britannia.
According to NIPA's Director of Operations, Sergio Blomont, "MIC-IT courses are very instrumental to us. NIPA hasn't had many technical courses, so we have partnered with MIC-IT to come over and assist us with these Construction Technology courses."
This Training agreement seeks to create competent craftsmen through the integration of technical, entrepreneurial and life skills training relevant to the needs of the St. Maarten labour market.
According to MIC-IT CEO, Anil Ramnarine, "MIC-IT has been very fortunate to expand our horizons regionally. We've successfully tested the waters in St. Maarten, St. Vincent and Grenada so much so that we have garnered increased and repeat business for other Training programmes. This type of growth and promotion of our technical vocational training is a first for us and we are hoping to have similar successes with our Industry and Construction Divisions regionally as well."
Speaking at the NIPA graduation ceremony on February 7, 2019, for participants who successfully completed the Construction Technology (Level 1) and the Train the Trainer (Life Skills) programme, MIC-IT Chairman, Professor Clement Imbert, said, "We want to include as many as we can in this programme. The goal is to build a self-sufficient technical school, which many others can participate in for years to come." Peggy-Ann Dros, President Advanced Vocational Education (AVE) Board of Directors, urged students to forget the negativity they have experienced in the past. "This is the new you. The new beginning of the rebuilding of this country starts with you." The graduation was described as a major achievement for St. Maarten's post-Hurricane Irma recovery process as these locally-educated graduates can now contribute to the reconstruction of the country.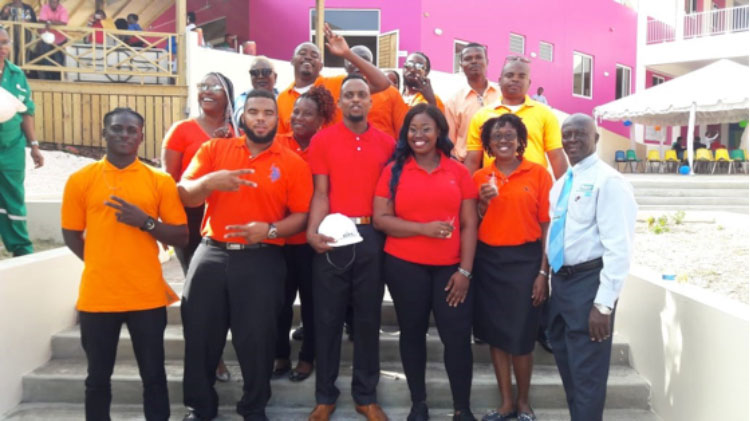 Graduating class:NIPA's first Technical Vocational graduates under the direction of MIC-IT Instructor, Fleville Tinto.
NIPA Construction students working on practical construction projects.