Smartly Securing your Home and Business
March 28th, 2022 | Related To: Broadview Surveillance Systems
---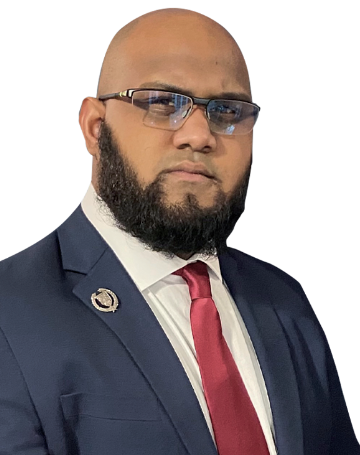 Interview with Marcus Tewari, Director of Broadview Surveillance Systems
"Unless you have 100% sturdy networking and reliability from your service providers, you may encounter serious issues…"
Security has become a fixed investment for many companies operating within T&T. Still, many aren't optimised for their exact needs. Instead, business owners opt for an arbitrary mix of systems such as entry alarms and CCTV units that may not be ideal for the ever-evolving crime issue. This week, Marcus Tewari, Director of Broadview Surveillance Systems, is offering advice and insights into how your security can better serve you, both as a business owner and homeowner.
"In terms of technology, knowing when is enough is what is important. As a CEO in the technological security world, I myself have explored and experimented with many types of technology from smart security to home automation for convenience. Whilst I thoroughly enjoy the efficiency of technology, unless you have 100% sturdy networking and reliability from your service providers, you may encounter serious issues and lock yourself out of your own system, or end up with a system that is useless to you and its purpose fails during a major outage," Tewari advised. Several businesses suffered losses across T&T in the nationwide power outage in February 2022 due to their failure to create redundant security systems with fail-safes such as backup power.
Today, security goes beyond simply setting up a camera system, even ones with DVR-recording backup, as once these are on the premises, they can also be removed by intruders. Therefore, modern security is a mix of the old and the new. According to Tewari, the 'original technology' is as equally important as the newer ones. "Locks, dead bolts, proper line of sight, escape tactics, and emergency drills are all important. Technology fails, but proper planning, practice and execution will always be successful if done correctly," he advises. "Cyber security should also be a front burner issue for businesses as data privacy and permissions are still major issues that simple to intermediate end users are possibly not serious enough about just yet, Business owners need to be aware and educate themselves on these issues too." One such area is understanding how your CCTV camera info is secured and utilised. In the event of a loss of computing equipment, it is essential to know that the data is secured and inaccessible to unauthorised users or stored or backed up in the Cloud.
Such solutions are available at many price ranges in today's market for any level of peace of mind. Tewari recalls one incident in the case of a homeowner who salvaged their most prized assets from a residential fire due to the right mix of monitoring. "As of lately, we are seeing a lot of house fires, so any technology such as smoke sensors and live CCTV monitoring would be highly recommended. One of our clients luckily had a live CCTV monitoring package, and due to our command centre agents looking on as a blaze was spreading rapidly in the backyard, the TT Fire Service was contacted and dispatched immediately, and the house was saved. In a case like this, you only have a few minutes before you possibly lose everything. He points out that technology, good training, and situational awareness saved the day. Elite providers can offer packages like this for up to $3000 monthly for live surveillance, 24/7 command centre support with emergency services and dedicated private response. But there are many other offerings in the market starting at $199 to $349 per month. "This all comes down to how seriously the consumer takes the security of their assets. You won't have a $750,000 Porsche protected by a picket fence and a $40 padlock, right?" he adds.
He also adds that many people overlook blind spots in the security risk profile – chief of which is their vehicle or company vehicles. "Criminals are clever," Tewari notes. "GPS is critical to asset protection and recovery. Clients should be educated on having a hard wired and a wireless GPS device installed in their vehicles or fleets. Why you ask? Criminals know exactly where to look for a hard wired device, and they know what to do. But secondary, and wireless.. takes time to find.. and when a crime is in progress.. time is not a luxury. Also, fitting with GPS is one side of the coin. Having an able and competent company to monitor, manage and ensure that this technology is working correctly, is where the real value and protection comes in. Often, clients who manage this independently, end up realising they forgot to top up their GPS device long after they've lost their asset, and the chances of "intact recovery" are now slim," Tewari adds.
Beyond serving as a means of tracking and recovery, modern vehicle GPS systems allow for better fleet management for companies with several vehicles or even homes with multiple cars. "Our GPS systems offer detailed reports on harsh braking, speed limit management, geo zones and notifications for entrance to prohibited areas etc." he highlights. "GPS can now serve as a tool to extend the longevity of assets as well as protect the clients' drivers from driving recklessly too, with is a cost-saving measure in the long run."
Tewari is a passionate security professional who started Broadview to fill a significant gap that he saw in the local market, which could significantly improve peace of mind for business owners like himself and offer the chance of better outcomes in the event of an adverse incident. "I was at a meeting one day several years ago with the energy sector, serving under another company which I am also involved in, ProTec Intelligence Services Ltd, which deals with physical security and a question by an executive was pitched. They asked, with the crime rate in Trinidad, the length of time for the E-999 personnel to answer and the excuses of no vehicles in a station… if something really were to happen.. Who do we call?" he recalls. At that moment, he made up my mind. And he confidently answered, "Us, you call us." And three months later, Broadview was born.  "We became the answer to that question because where an opportunity presented itself, we seized it. Proudly, to date we are still serving that company and many others faithfully."
---
Article by: Kieran Andrew Khan