Travel, Ports, Shipping and Courier Services
September 26th, 2021
---
Shipping and Logistics Faces New Storms Ahead
Trade finds a pattern. It's not just the cargo but the movement of equipment to carry this cargo that matters.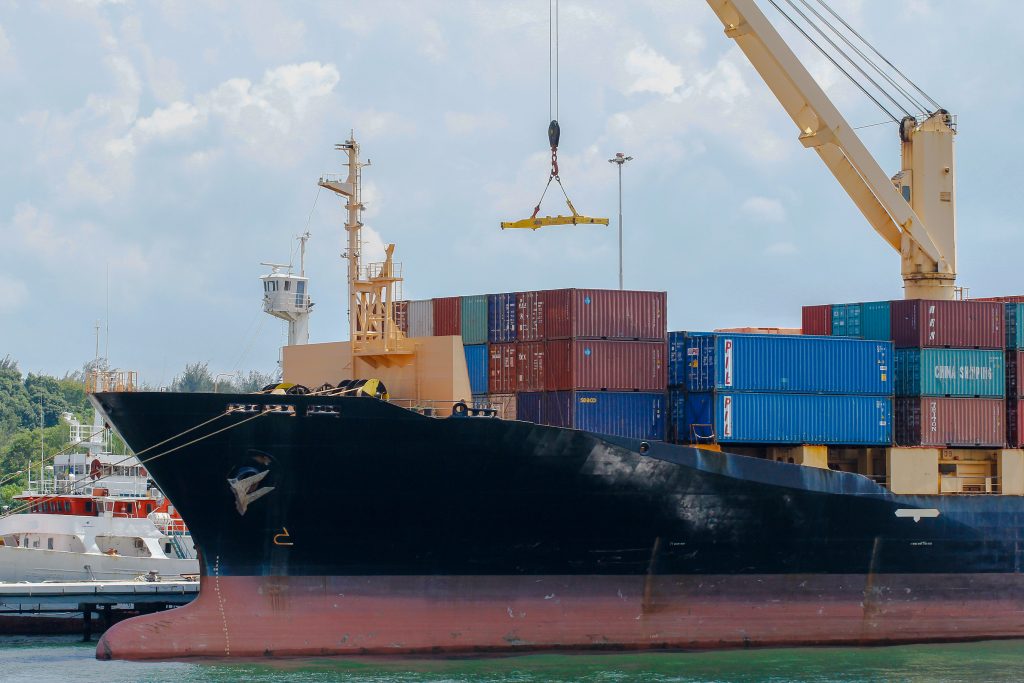 INTERVIEW – SHIPPING ASSOCIATION OF TRINIDAD AND TOBAGO (SATT)
Hayden Alleyne has been a huge proponent of getting our shipping, logistics, and all-related individuals vaccinated and back to work in a safe and responsible manner. The organisation, before COVID-19, would have been involved in seeking ways to continue developing the local maritime industry with a view to overall national development. Today that has changed into ensuring safety for returning persons involved in all-related sectors and navigating the new changes in electronic services in the industry, designed to reduce contact spread of the virus. However, there are also many other issues on the horizon.
How would you describe the last year for the sector?
"It's been challenging on the local front, with contraction in demand due to restrictions and the lockdown. Restaurants, in particular, not operating to capacity, affected imports to feed that demand with products from fresh produce to foreign imported food. And internationally, this situation is even worse," Alleyne explained. "Trade finds a pattern. It's not just the cargo but the movement of equipment to carry this cargo that matters." In the past highs of the pandemic, containers were getting bottlenecked at some ports, while others were waiting for these to be returned to continue trade. It was not just that a series of blips disturbed the system, but that the highly intricate supply chain dynamic required to keep business moving was disrupted, with numerous delays along with it and once you have delays, you have increased costs," he highlighted. "And on the ground, it gets grimmer, with several freight forwarders and importers closing their operations in the past year."
What were the significant challenges? What, if anything, is being done, or can you advise, to address them?
"We have to move the conversation on trade from one of just Customs and the State seeking to earn revenue, to one where it's about a greater ease of doing business. That's where our thinking needs to be," he advised. "In moving to be a real First World player in trade, we have taken a collaborative and understanding approach in recent times in how we work with the State through the Customs and Excise Division. But with that in mind, we can't let a crisis go to waste! We have seen great strides being made in electronic documentation, so we have more e-delivery of documents, and are moving to make that the status quo," he noted. This approach not only reduces personal contact with documents but is also in line with the move to digitise and digitalise Trinidad and Tobago.
What are the most significant initiatives/projects in the last year, and are any expected by 2022?
According to the SATT President, with COVID-19, everything has to be reimagined and made as contactless as possible, along with everyone coming on board with working remotely and meeting virtually. "Most of our executive council now meets virtually and it's both a cost and time savings," he pointed out. "We have also made use of freely available technology – using VIP WhatsApp Groups for ease of communications in terms of vessel sailings, times and updates, for persons in the industry," he added.
Any benefit to the installation of the new Ship-to-Shore crane?
The Port of Port of Spain commissioned a new state-of-the-art, rail mounted, Ship-to-Shore (STS) crane replacing the Port Authority of Trinidad and Tobago's oldest Paceco STS crane, which was 42 years old.
According to Minister of Works and Transport, Senator the Honourable Rohan Sinanan, who noted at the installation, "The crane was about 17 years past its shelf life and it will be auctioned off by the Port Authority. The new STS crane can move more containers in a shorter space of time so that will improve the efficiency of the port. This crane does about 35 containers an hour, the cranes we used before that probably did half that amount." The SATT President believes this will bring very measurable improvements to efficiency at the Port.
What is your outlook for the industry in 2021-2022?
"We will start to see recovery in the economy soon, once things continue as they are locally and globally, but there are expectations we need to be aware of. The price of freight will continue to be high for some time – in the last year the cost of a container has moved from TT$4-5,000 to TT$11-12,000 per container," he mentioned. According to Hayden, the price may never return to pre-pandemic levels, but it will stabilise. "We have to consider that climate change and weather is coming into play as well more and more, and coupled with supply chain delays, we will have some challenges ahead." Still, the SATT President is optimistic that the economy will see an upswing, but it is heavily contingent on the population being vaccinated as best and as fast as possible. 
---
INTERVIEW – ACCLAIM FREIGHT & LOGISTICS SERVICES LIMITED
The last year has been a turbulent one for the shipping industry, and not just those who operate it, but also those who depend on it for business survival. Numerous challenges arose in 2020 when shipping container shortages met existing challenges and limited foreign exchange availability. Many had to pivot, but all stakeholders look forward to resurgent trade in the next two to three years.
For Derek Telfer, Managing Director, Acclaim Freight & Logistics Services Limited, the pandemic has been a double-edged sword. "As an industry, a large part of our survival was contingent on the fact that Trinidad and Tobago largely remains an import economy, so shipping will always take place.
But then we also have had to retool and consider other lines of income as a company, which is always a good thing – to pause, to consider, to diversify," he pointed out. However, one major challenge for the operators in the industry and their customers was access to foreign exchange – even for companies where you think exemptions could apply. "We have a customer who works with the regional health bodies importing medical grade supplies and equipment, but even with the necessary nature of the product, US currency could not be easily accessed.
As such, Telfer's business depended on another aspect of shipping. "Since (Hugo) Chavez's rise to power, Venezuela's fishing fraternity lost access to the US market, as such, Trinidad has been used as a transshipment point for many years for their fishing products. The Venezuelan fishing fleet is larger than all the fishing fleets combined from here to Puerto Rico, so in our role in helping, we are actually helping to earn foreign exchange; these fishermen are helping to support their families and ours too.
Another area that impacted the shipping industry was the global shortage of shipping containers. There were many causes for this – the slowdown in global demand leading to bottlenecking of containers at specific ports and the decrease in empty containers being picked back up. This shortage was also impacted by the slowdown in container production early in the pandemic. The company also offered containers for local use, the supply of which dried up during this time.
Having started his company in 2007, Telfer has undoubtedly weathered several economic storms with this latest one being one of the most challenging. However, he urges positivity in the outlook ahead. "We need to encourage greater honesty and transparency in our leadership as a country, but we also need to leave our 'nine days' mentality behind and really plan for the future in a meaningful way as a country," he suggested.
With larger Northern economies opening up as of writing in mid-2021, the expectation is that the rebound from this pandemic will outpace many of the last rebounds from recessions. The only difference is that an adaptive and cunning virus fuels this economic downturn.
A return to regular transglobal trade, which will alleviate the economic impact, could be the very element that facilitates future pandemics.